American Girl® Springtime Madeleine Party
---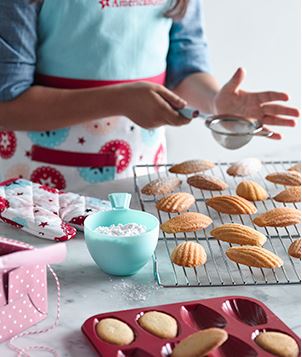 SATURDAY, APRIL 27TH | 10:00 AM

Madeleines are little French sponge cakes that are as beautiful as they are delicious—and they're easy to bake with these special tools we partnered with American Girl® to create.
We'll use a fluted plaque to bake the golden, shell-shaped cakelets, then use the sifter to sprinkle them with powdered sugar after they've cooled.
Arrange them in tissue-lined boxes decorated with colorful twine and stickers to surprise your friends with homemade treats.
$30 per child, includes an American Girl® Madeleine Set

Call the store for details! (415) 924-6799
World of Entertaining
April 28, 2019 | Williams-Sonoma
SUNDAY, APRIL 28TH | 11:00 AM | Step into the World of Williams Sonoma as we share some of the bes...
Voltaggio Brother's Steakhouse
May 2, 2019 | Williams-Sonoma
THURSDAY, MAY 2ND | 6:30 PM Brothers Bryan and Michael Voltaggio of Bravo's Emmy-winning season of ...