Open Stores, Outdoor Dining & Retail To Go/Curbside Pickup*
---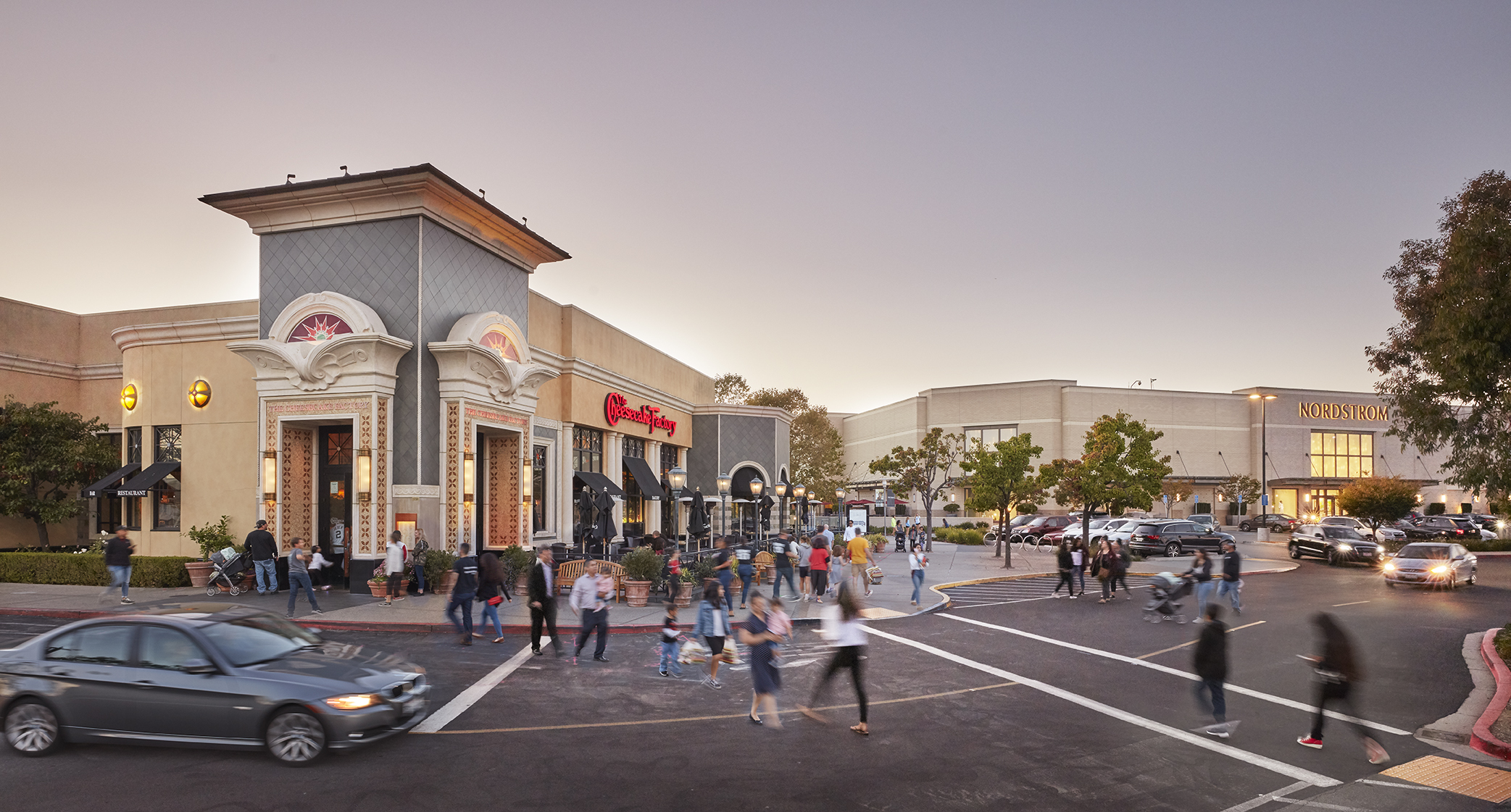 Center Hours:
Monday – Saturday 11 am – 7 pm
Sunday 12 pm – 6 pm
We continue to promote a healthy shopping environment for our guests and employees through intensified cleaning procedures and proper social distancing signs. We've missed you and look forward to seeing you again soon! More details on our cleaning procedures available HERE.
*Some stores have additional safety protocols and adjusted hours in place; please contact the store directly for details.
Curbside Pickup
Need Something Now? Pull up. Pop your trunk. Leave with your purchases!
Curbside Pickup is available daily for select retailers and restaurants. Contact the store directly to find out merchandise availability, payment options, and to place an order. We are offering two designated locations on the east side of the Center between Macy's and Nordstrom. Please confirm pickup location with your retailer.
Location 1 between Nordstrom and Cheesecake Factory.
Location 2 between Banana Republic and Verizon.
Please remember to stay in your vehicle while you wait for your package,
RETAILERS OFFERING IN-PERSON SHOPPING:
A Child's Delight - 415.945.9221
https://www.achildsdelight.com/
Alys Grace - 415.945.9520
(*Monday -Saturday 11am-5pm, Sunday 12pm-5pm)
https://www.alysgrace.com/
Amazon 4-Star - 415.927.1030
https://www.amazon.com/b?ie=UTF8&node=20017633011
Anthropologie - 415.924.4197
https://www.anthropologie.com/
Apple - 415.927.5820
(*11am to 6pm, Monday - Saturday, 12pm to 6pm Sunday)
https://www.apple.com/
B8ta - 415.496.6552
https://b8ta.com/
Banana Republic - 415.413.5123
(*10am to 4pm Tuesday thru Saturday, Closed Sunday & Monday)
https://bananarepublic.gap.com/
Bonobos - 415.945.9505
https://bonobos.com/
Free People - 415.924.8401
https://www.freepeople.com/
iPlayNtalk - 415.936.9797
J. Crew - 415.927-2005
https://www.jcrew.com/
J. Jill - 415.924.3933
(Tuesday - Saturday 11am to 6pm, Closed Sunday & Monday)
https://www.jjill.com/
Kiehl's - 415.945.9954
https://www.kiehls.com/
L'Occitane - 415.927-1821
(*12pm to 6pm, Monday - Saturday, 12pm to 5pm Sunday)
https://www.loccitane.com/en-us/
Lucky Brand Jeans - 415.927.4102
https://www.luckybrand.com/
Lululemon - 415.927.2891
https://shop.lululemon.com/
Macy's - 415.927.3333
(*Monday thru Sunday 11am - 7pm)
https://www.macys.com/
Madewell - 415.945.9015
https://www.madewell.com/
Madison Reed - 415.849.4807
*Book a color service, free color consultation, pick up product
https://www.madison-reed.com/colorbar
Nordstrom - 415.927.1690
(*Monday thru Saturday 10am - 7pm, Sunday, 11am - 6pm)
https://shop.nordstrom.com/
Peet's Coffee & Tea - 415.924.8919
https://www.peets.com/
Pottery Barn - 415.924.1391
https://www.potterybarn.com/
RH Baby & Child - (415) 927-2659
http://www.rhbabyandchild.com/
RH MARIN - 415.924.8919
https://www.restorationhardware.com/
Sundance - 415.945-9675
(Monday - Saturday, 10am to 6pm, Sunday 12pm to 5pm)
http://www.sundancecatalog.com/
Sunglass Hut - 415.927.7120
https://www.sunglasshut.com/
Talbots - 415.927.3793
(*10am to 5pm Monday thru Saturday, Sunday 12pm to 5pm)
https://www.talbots.com/
Tempur-Pedic - 628.877.7125
https://www.tempurpedic.com/
Tommy Bahama - 415.737.0400
https://www.tommybahama.com/
Tesla - 415.737.0780
https://www.tesla.com/
The Northface - 415.924.2848
https://www.thenorthface.com/
UNTUCKit - 415.360.2960
https://www.untuckit.com/
Vineyard Vines - 415.924.2966
https://www.vineyardvines.com/
Warby Parker - 415.599.5210
(*Monday thru Sunday 12pm - 6pm)
https://www.warbyparker.com/
Williams-Sonoma - 415.924.6799
https://www.williams-sonoma.com/

RETAILERS OFFERING CURBSIDE PICKUP:

We are OPEN for patio dining.
You can also order & pickup your favorites 11am to 7pm Monday through Sunday.
Call us at 415.737.1849 or visit https://boudinbakery.com/
Stang's Hot Dogs
We look forward to having you back and grilling up your favorites!

We're Open!
Ongoing | Madison Reed
Madison Reed Color Bar Corte Madera is open! Book a color service, stop by for a free color consult...
We're Open!
Ongoing | Tommy Bahama
We're wearing masks to keep you and our team safe. Cashless payments only. Thank you for practicing ...