Lark Theater Drive-In Movies Under the Stars
Now through October 31, 2020
---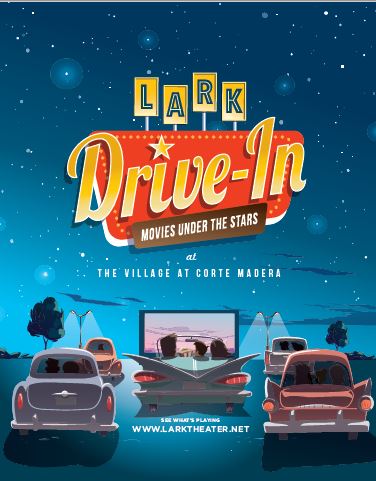 Drive-In fun for the entire family!
Thursday, Friday and Saturday nights | Now through October
North Lot (across from Nordstrom)
Gates open at 7:30pm, cars parked by 8:30pm
At last! A wonderful way for the whole family to safely enjoy the magic of the big screen in a spacious outdoor setting under the stars of Marin! We'll be there every weekend through summer and into fall.
A different movie every night! Join us for great upbeat films that focus on the family: films that will move you, make you laugh or want to dance, plus great adventures! Make this your new entertainment destination every Thursday, Friday and Saturday starting in July, and continuing through to the fall until our treasured art house cinema on Magnolia is safely ready for you to enter!

It's simple, it's safe and secure!
Cars socially distanced, masks on only when going to the washroom, (facilities on site!), bring the kids, pillows, blankets and enjoy the show!
Tickets and film programs at larktheater.net: $30 per car, no limit on passengers! (Lark Members $25, Day of show $35), individual driver $15. Lot at The Village opens at 7:30 pm, Cars parked in place by 8:30 pm.
Restaurant & Retail Offers:
Enjoy these meal discounts and special savings from Village retailers!
Boudin Bakery:
Check out our Family Meal deals; Pizza & Salad, Bread Bowl Soup & Sandwich, Salad & Sandwich and more! Or order your favorites from our regular menu.
https://order.boudinbakery.com/menu/boudin-sf-village-at-corte-madera
Boca Pizzeria:
Buy one pizza, get the second half off!
https://www.bocapizzeria.com/corte-madera/
*Must present movie ticket
A Child's Delight:
Bring in your movie ticket & receive a 20% discount on any item!
*Offer expires seven days after date of ticket
We feature all your favorites including; Alex, Buki, Melissa and Doug, Ty and more!
https://www.achildsdelight.com/

UNTUCKit:
Show your ticket and get 20% OFF!
https://www.untuckit.com/
See you there under the stars!
SEE WHAT'S PLAYING AT LARKTHEATER
Open Stores, Outdoor Dining & Retail To Go/Curbside Pickup*
Ongoing
Center Hours: Monday – Saturday 11 am – 7 pm Sunday 12 pm – 6 pm We continue to...