Now through December 31, 2020
---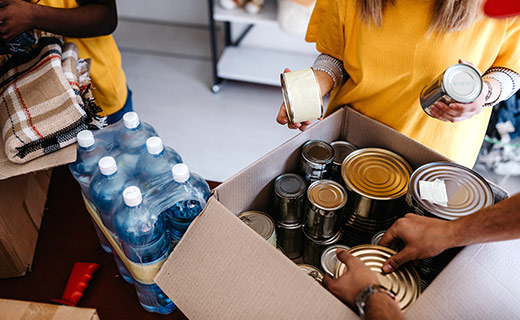 Help us in supporting our local community food banks from coast-to-coast. We've partnered with SF-Marin Food Bank and Raphael House to collect monetary donations on their behalf.
Your donation provides meals to the families, children, seniors, and vulnerable members in our community during the pandemic. Make sure you share with your family and friends!
Working with our partner properties throughout the country, we're aiming to help serve a million meals to those in need. We thank you for your generosity.
Donating is Easy:
Virtual Food Drive
We've partnered with the SF-Marin Food Bank to collect monetary donations on their behalf. The good news is that for every $1 that you give, the Food Bank can provide food for 2 meals to our neighbors in need.

Support the SF-Marin Food Bank and Donate Here
Kitchen Fund Drive
Last year, Raphael House served 16,191 meals to the parents and children staying in their Residential Shelter. The Kitchen Drive donations enable the Raphael House to continue to provide warm, nutritious meals to families fed, safe, and stable. Every $10 donation provides two warm meals for the parents and children staying in their shelter.

Support the Raphael House Kitchen Fund and Donate Here
About the SF-Marin Food Bank:
The SF-Marin Food Bank's mission is to end hunger in San Francisco and Marin, where one in five neighbors is at risk of hunger. We envision a community where everyone is able to obtain enough nutritious food in a dignified manner to support the health and well-being of themselves and their families.
Due to COVID-19, the Food Bank is facing an unprecedented challenge to support our neighbors who were already receiving assistance from the Food Bank as well as those who now find themselves facing hunger as a result of lost hours, wages, or jobs. Learn more at www.sfmfoodbank.org.
About the Raphael House:
The mission of Raphael House is to help low-income families and families experiencing homelessness strengthen family bonds by achieving stable housing and financial independence.

Raphael House is a 100% privately funded and community-supported organization. Our success rate is unmatched: more than 85% of all Raphael House families go on to achieve long-term housing and financial stability. For information or to support the Raphael House's efforts, please visit their website Here

See all participating properties
Beauty at Your Fingertips
Now through November 30, 2020 | L'OCCITANE
Sign up for our text messages and receive $20 OFF your first purchase of $70 or more!
Exclusive Black Friday Access
November 25, 2020 through November 28, 2020 | L'OCCITANE
Join us this Black Friday for our upcoming promotions at L'OCCITANE EN PROVENCE.