Redwood High School American Government Collage Display
---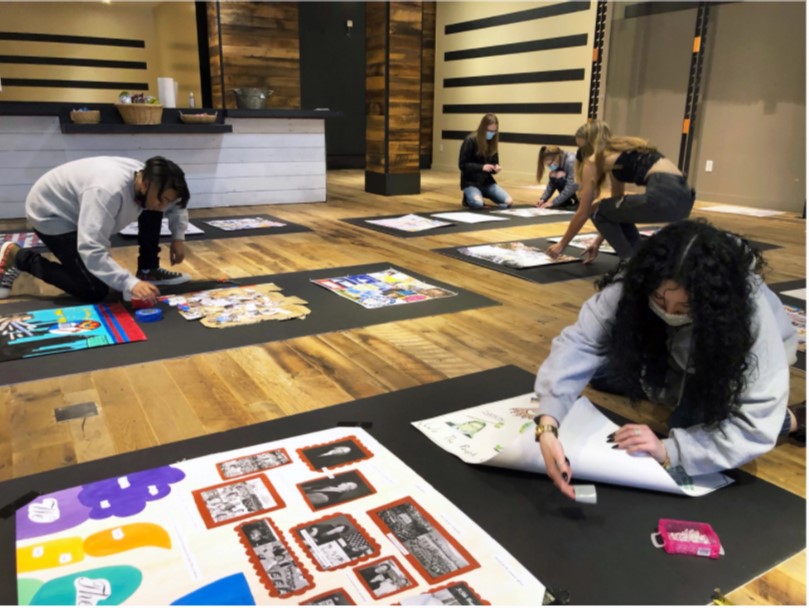 Come check out the collage displays created by the Redwood High School Seniors American Government Class of 2021!
The installation includes a collage of essays and photos on the U.S. Constitution inspired by the American artist Romare Bearden. Bearden, a Black painter who died in 1988, is known for his collages and photo montages on social issues.
We invite you to come down and view these wonderful, innovative works of art.

Artistic activity serves as a form of reasoning and a way to think with your senses and this creative process involves making connections, considering relationships, and constructing new ideas. Such divergent thinking is critical to creativity! And higher level mental skills are needed for academic work.

It has been suggested, integrating the arts into higher education pedagogy provides an opportunity for cultivating rich ideas and high-level thinking, capitalizing on the creativity that every person already possesses and uses. As Newton and Plummer (2009) note "the use of the creative arts as pedagogical strategy enables individuals to better understand themselves, and to stimulate thinking!"
Marin IJ Feature Story Here
Easter Hours
Now through April 4, 2021
In observance of the Easter holiday we will be CLOSED on Sunday, April 4th.
Test Drive the All New Volkswagen ID.4
Now through March 7, 2021
The all-new Volkswagen ID.4 EV is truly something to behold. On the outside, clean aerodynamic line...